China's Faltering Housing Market
After Years of Debt Infused Growth, China's Housing Bubble Looks to be Popping
According to S&P, Chinese property sales have dropped 30% year-over-year, putting them on track to decrease more this year than they did during the 2008 financial crisis.1 After 20 years of high-flying growth, Chinese developers are struggling to stay solvent under the government's clampdown on debt financing, that these companies have relied on in past decades.2
In January 2021, the Chinese government instituted a "three red-line" policy to govern the real estate sector. The goal of this policy action was to deleverage and improve the overall health of the property development industry in China.
The three red-lines are: 3
A developer's liability-to-asset ratio (excluding advance receipts) must be at 70% or less.
A developer's net-gearing ratio must be less than 100%.
A developer's cash-to-short term debt ratio must be 1x or more.
When a developer fails to meet any of the "red lines", regulators place limits on a company's ability to grow its debt. This has led Chinese property giants like Evergrande and Sunac to default on some of their bonds.4
Without the ability to overleverage themselves and excessively tap into debt markets to fund housing developments, many builders have stopped work on existing projects, leaving Chinese homebuyers out-to-dry.
China's housing market is distinctive. New homes are sold before they are built and mortgage payments start immediately after a buyer makes their initial deposit. Developers use the presale cash infusion to get started on new projects.5 About 85% of Chinese homes are sold through presales, up from about 50% in 2005.6
What is happening now is that frustrated homebuyers have stopped making mortgage payments on unfinished projects. The list of unfinished projects where buyers are refusing to pay mortgages started at 30, but has morphed into more than 300. Buyers refusing to pay their mortgages on unfinished presale apartments put as much as $350 Billion in payments at risk for highly indebted Chinese property developers.
At the moment, the mortgage boycott only represents a small part of the total Chinese mortgage balance, around 1%. The larger risk is that if more homebuyers refuse to make debt service payments on yet-to-be completed projects, the low consumer sentiment will reduce demand and prices, feeding into a ruthless feedback loop for the highly leveraged sector.7
Demand for new construction has already dipped in China. The People's Bank of China (PBOC) quarterly survey found that only 16.9% of residents plan to buy homes as of last month, the lowest reading for this data point since Q3 of 2016. Dai Xianglong, the former head of the PBOC recently said that China would not experience something like the 2007 U.S. subprime housing crisis, due to the atypical makeup of the Chinese real estate market.
Mortgages are not as commonplace in China as they are in Western economies. Only 18% of homeowners in China have a mortgage. It is much more routine to borrow money from extended family to buy a property.
The crisis is an inescapable one. When less people make their debt service payments, developer's balance sheets dry-up, suspending construction on even more projects, leading more homebuyers to feel disgruntled and to potentially stop making debt service payments on their unfinished homes.
Chinese regulators are now attempting to get lenders to extend credit to real estate projects to keep them afloat. The China Banking and Insurance Regulatory Commission (CBIRC) told an industry publication that, bank's should meet developer's financing needs whenever reasonable.8 The government in Beijing also pledged to speed-up issuance of special government bonds to supplement the capital that small banks have available to them in-order to reduce risks to the property sector.
Some other solutions that the government has most recently proposed are a grace period on loan payments and allowing municipal governments and financial institutions to rescue insolvent developments.9 Though, Chinese leadership signaled that at the end of the day, local governments will be culpable for ensuring the delivery of housing projects.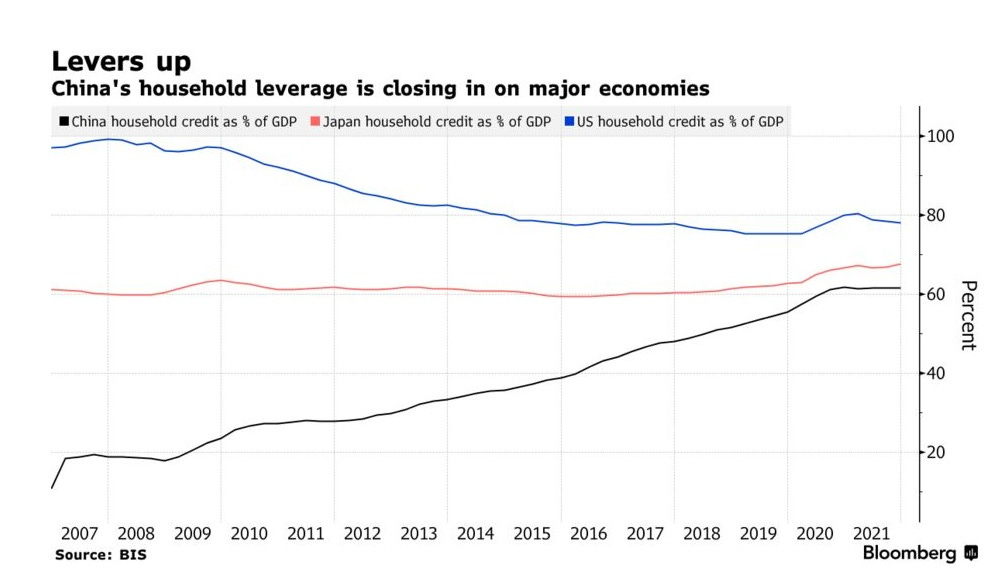 This is a very precarious time for many Chinese families and the Chinese economy. China's middle-class has an estimated 70% of its collective wealth tied up in housing while construction stoppages may effect up to 1.3% of the nation's GDP. Chinese home prices have decreased for ten straight months and disposable per-capita income just contracted for the fifth straight quarter. This coincides with the end of a decade-long borrowing boom that saw household leverage in the country rise to 61.6% of GDP in 2021 from 27.8% in 2011.
The government in Beijing must walk a tight-rope to ensure that the country's developers learn how to wean themselves off of borrowing infused growth while also making sure that the Chinese middle-class does not face the brunt of this regulatory tightening.
Have feedback or disagree with what I am saying? Always feel free to DM me on Twitter @Adam_Tannenbaum or email me at atannenbaum@thedeanlicos.com.
https://www.cnbc.com/2022/07/27/chinas-property-sales-set-for-a-worse-plunge-than-in-2008-sp-says.html
https://www.cnbc.com/2022/07/20/chinas-homebuyers-are-running-out-of-patience-with-the-real-estate-slump.html
https://www.ubs.com/global/en/assetmanagement/insights/thematic-viewpoints/apac-and-emerging/articles/china-three-red-lines.html
https://www.ubs.com/global/en/assetmanagement/insights/thematic-viewpoints/apac-and-emerging/articles/china-three-red-lines.html
https://www.bloomberg.com/news/articles/2022-07-24/china-s-property-crisis-burns-middle-class-stuck-with-huge-loans
https://www.cnbc.com/2022/07/20/chinas-homebuyers-are-running-out-of-patience-with-the-real-estate-slump.html
https://www.reuters.com/markets/europe/china-urges-banks-extend-loans-real-estate-projects-amid-mortgage-boycott-2022-07-17/
https://www.bloomberg.com/news/articles/2022-07-28/china-s-leaders-call-for-stabilizing-property-at-key-meeting